Transcription Services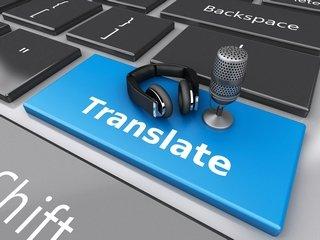 Transcription services are often an integral part of multilingual video and/or audio content creation. Transcription itself basically consists of converting an original audio track into a written text. Then, this text can be used directly for the hearing impaired or as a source material for further translation into foreign languages or dubbing. HQ-translate s.r.o. has all necessary technical equipment and software - managed by professional team of transcribers - to provide our clients with speedy, high quality and efficient transcription solutions.
HQ-translate company provides accurate and moderately priced audio and video transcription services for more than 5 years already, up to now we have serviced nearly 100 clients and have processed 1100+ hours (or 7 weeks!) of audio records. Our global team of highly trained and experienced transcription professionals is fully capable to complete your projects error-free and before deadline. For specific cases, many our transcriptionists have professional backgrounds in fields ranging from medical and legal services, linguistics, law enforcement to public education. And finally, we employ a system of quality checks and client feedback on each project, ensuring the outcome fully satisfies our clients. Upon client's request, it is possible to put time stamps to the script or arrange for multilingual translation of the transcribed content, noticeably saving overall time and costs.
For convenience of our clients we have developed an in-house transcription workflow technique allowing for effective processing of all widely-spread audio and video formats: mp3, mp4, Tapes, CD, Video Cassettes, Mini Disc, Blue Ray Disc, Digital Audio, Digital Video, Audio Tape, Micro Cassettes, Mini Discs, CD/DVD, .wma, MPEG-1, -2, -4, .mov, .avi, OGM, VCD, AAC, AAC+, AAC+v2, H.264, XviD, Flash Video, H.263, 3ivx, RealVideo, .wav, Windows Media Video (WMV), VOB, ASF, PMP, RealMedia.
HQ-translate project managers are ready to offer you the most efficient transcription solution right when you need it.